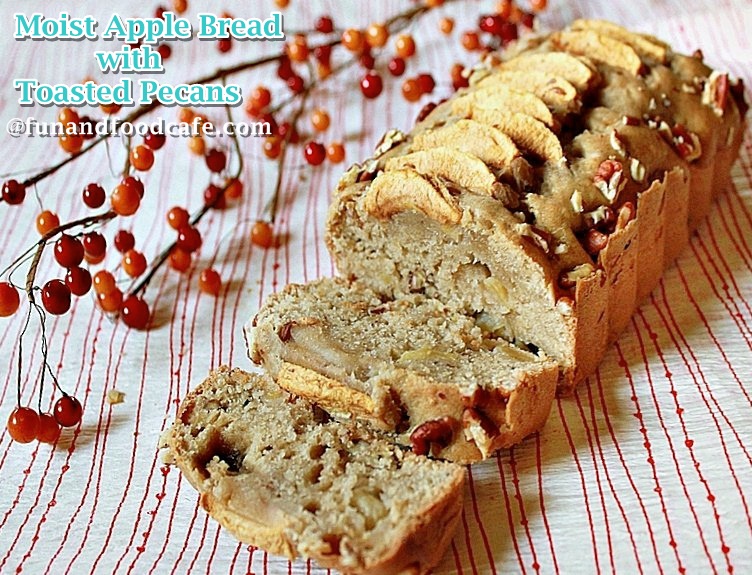 Moist Apple Bread topped with Toasted Pecans
Apples are making the rounds all around the blogosphere, especially as Fall is the season to indulge in fresh, sweet apples of every kind. Apple Picking is a fun way to fill your bags with some fresh fall produce that you can then use to make delicious treats like Caramel Apples, Apple & Blackberry Skillet Pie, or this Apple Bread with Toasted Pecans, which I adapted heavily from a recipe I found on allrecipes website. I used nutmeg instead of cinnamon, brown sugar instead of white, replaced some all-purpose flour with healthier whole wheat flour, and added more liquid to balance the gluten by using milk, applesauce and oil. I also used toasted pecans instead of walnuts, I think they work much netter with apples than the former, but its your call, choose what you like.
Unlike other fruit breads, Apple Bread is more similar to a bread in texture, because it holds its firm shape even after baking. Most fruit loaves become a bit soggy due to the moisture, but Apple Bread will not fail you ever. Pair it with other seasonal fruits like cranberries or zucchini, or mix in some nuts like pecans, walnuts or even pine nuts! Use this basic recipe and adapt it to your flavor with a few mix-ins here and there. But don't worry, even i you follow it to the core, you'll end up with an Apple Bread recipe that you will cherish forever.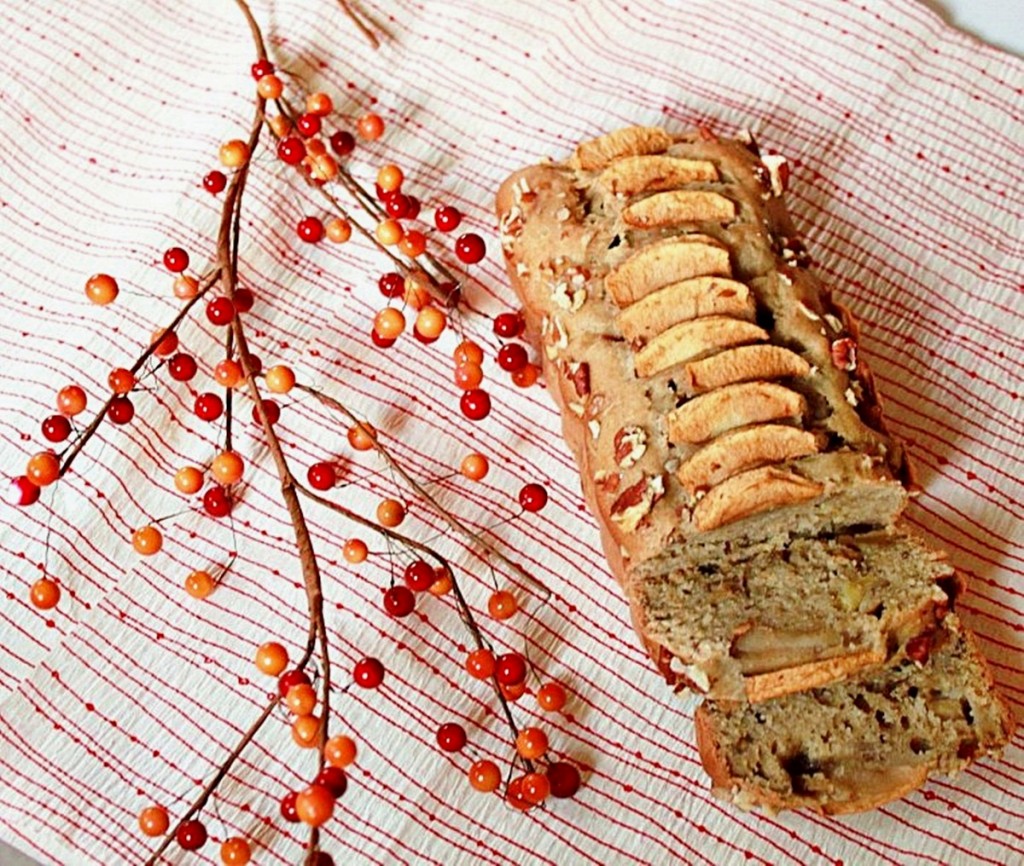 Apple Bread With Toasted Pecans
Moist Apple Bread made with toasted pecans is perfect for breakfast or a Holiday brunch!
Author:
www.funandfoodcafe.com
Ingredients
2 cups all-purpose flour
1 cup whole wheat flour
2 teaspoons nutmeg
1 teaspoon baking soda
½ teaspoon baking powder
½ teaspoon salt
½ cup vegetable oil
½ cup whole milk
½ cup unsweetened applesauce
2 cups brown sugar
2 eggs, beaten
½ teaspoon vanilla
2 cups apples – peeled, cored, and coarsely chopped
1 cup toasted pecans
Directions
In a bowl, combine flour, nutmeg, baking soda, baking powder and salt.
In another mixing bowl, beat the eggs and sugar, then mix the milk, oil, applesauce, vanilla and the chopped apples.
Stir this liquid mixture into the flour mixture. Add toasted pecans and mix. Do not beat or blend, just stir enough to mix evenly.
Divided this mixture between two greased 8-in. x 4-in. bread/loaf pans. Decorate the top with sliced apples if you like, how I did in the picture. Bake at 350 degrees F for 40-45 minutes or until bread leaves the sides and a toothpick inserted in the center comes out clean.
Allow it to cool for 10-15 minutes on a the wire rack before removing from pan. Slice the bread using a serrated knife, and serve with a side of butter.
As I mentioned earlier, this Apple Bread loaf comes out nice and firm, unlike other fruit breads which tend to crumble a bit sometimes. Let it cool completely before slicing so you can get clean cuts. We enjoyed it warm with some Homemade Apple Butter on the side, and the best part, its flavor enhances over a couple days, so make sure you bake some more to enjoy throughout the week! I am sending this over to Simply Food, who is hosting this month's edition of Cook Eat Delicious Desserts, featuring Apples, as well as to Vardhini's Bake Fest for November.
Related Recipes
Quick & Easy Apple Crisp
Spiced Pumpkin Bread
Fresh & Fruity Blueberry Foccacia
Homemade Zucchini Bread