Hey, did you guys know that May is officially the National Hamburger Month? I didn't, up until 3 days ago when I read about it, and it amazes me how people all over the world can come up with so many reasons to celebrate. Every month has a celebration named after it – and as Summer kicks in full-on in sunny California, I was researching burger recipes for Father's Day that is coming up next week, and that's when I found about Hamburger month, and also about Hamburger Helper® !
If you are not familiar with Hamburger Helper® , let me tell you that its not a Hamburger recipe in any way! In fact, it is a line of General Mills packaged food products, sold under the Betty Crocker brand, which consist primarily of boxed pasta bundled with a packet of powdered sauce or seasonings. And I can tell you its a favorite amongst people looking for cooking shortcuts, because when I went to Walmart to grab a box for myself, I saw it in several other shopping carts!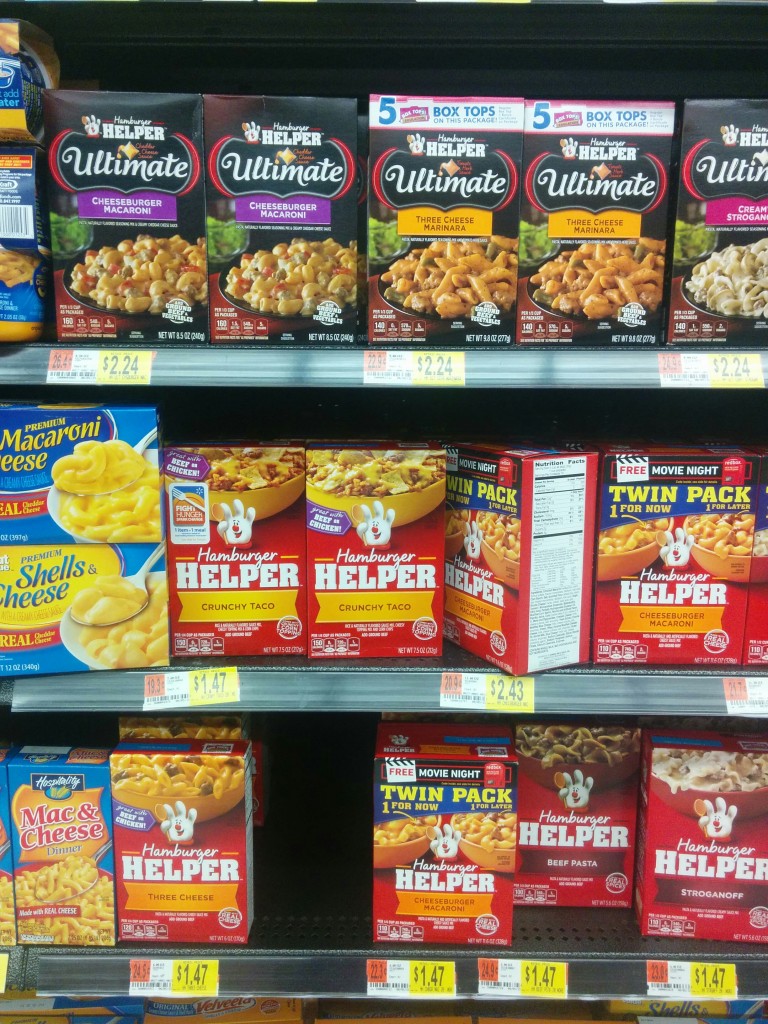 Let me tell you that I love cooking from scratch, because its healthy and wholesome, plus it's a holistic experience for me to cook for my family. However, as a working mom, there are times when I do not mind relying on packaged products that help me create quick, easy yet delicious recipes that my family can enjoy. I think Hamburger Helper® would be a great product to fulfill that need, given the wide variety of flavors that you can find! Basically, it is a mix of pasta and sauce, and you are free to add a creative spin by adding any other meat or veggies to create a satisfying meal in under 15 minutes.
I grabbed a couple packs of Hamburger Helper® – the Cheesy Macaroni and the Tomato-Basil Penne.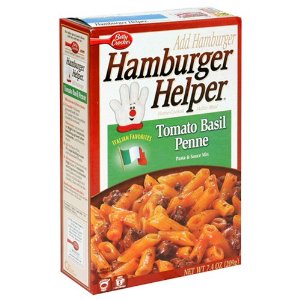 I used the Penne to make a weeknight dinner for the kids last night, and here's how it looked. Pretty appealing, huh? And the best part is it is super quick and easy. In fact, its perfect for those who aren't much into cooking, or even for dads meaning to spruce up a delicious meal for the kids without much fuss. Just stir the sauce mix into boiling water or milk as instructed, then stir in the pasta and let it cook till done. I added some fresh basil to add more flavors to my pasta, and also a sprinkle of finely shredded parmesan. You could mix in a few veggies if you like, or your favorite meat.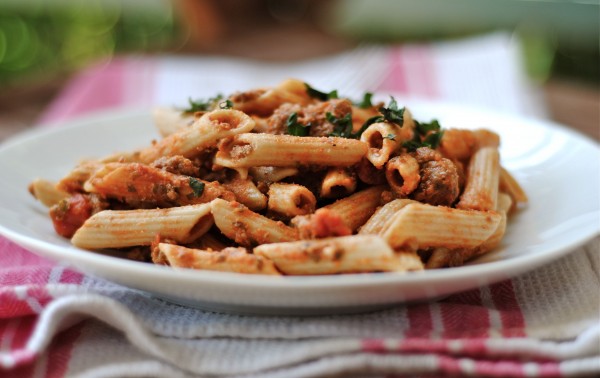 It was a quick-fix dinner that everyone enjoyed. And it also tasted good. IN fact, you could pair it with a delicious wine and maybe a dessert to convert a quick meal into a gourmet one. I am super excited about my box of Hamburger Helper® Cheesy Macaroni. Thought it would be a simple meal for some, I already have some interesting ideas to turn into a a crowd-pleasing side dish that is spiced up with Indian flavors and loaded with some wholesome veggies.
Check out my post on Tandoori Macaroni & Cheese that I made using Hamburger Helper® Cheesy Macaroni!
This is a sponsored conversation written by me on behalf of Hamburger Helper® . The opinions and text are all mine.