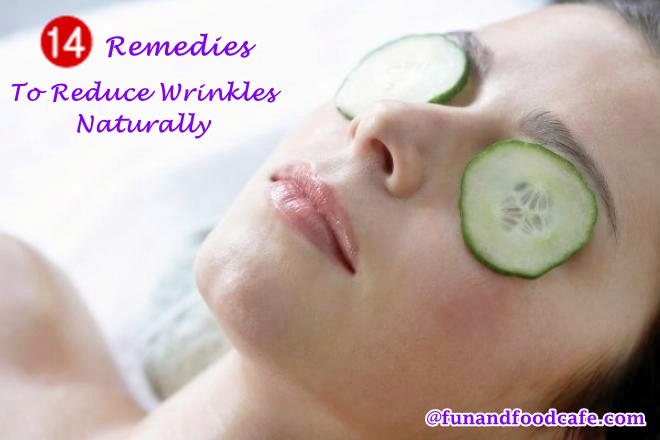 Wrinkles are a woman's worst enemies, especially as they tend to grow stronger with each passing year! The human skin has an outer layer that protects our internal body organs from the outside environment, as well as prevents loss of moisture. but as the skin ages, the fat, collagen and elastin in the skin, which are responsible for the smooth youthful appearance, start to decrease, leading to loose wrinkled skin. So if you are in your 20's, and want to prevent your skin from looking wrinkled, or if you are in your 30's and 40's, and still want to try to reduce those ugly wrinkles on your face, you have two choices. First choice, go to a doctor and spend lots of $$$ as he injects retinol into your skin. Or second choice, try some of these safe and effective home remedies which may be slow to work, but are extremely safe and effective.
1. Honey
Honey is actually considered the most effective home remedy in reducing wrinkles. Make sure you buy pure organic honey, not the sugary stuff you get in most stores. Wash your face first with warm water and rub a little honey to your face and leave it on for 20-30 minutes. Then rinse your face with warm water again and refresh with ice cubes, for an instant face lift.

2. Olive Oil and Lemon
Olive oil can help provide moisture to the skin. Rich in vitamin C, D, and E, antioxidants and iron, when combined with lemon juice, it helps regenerate the skin cells, making it brighter and radiant, as well as more elastic.

3. Milk Powder
Cleopatra took Milk baths for a very good reason! Nutritious milk powder can restore skin moisture. make a face mask with 4 tablespoons of milk powder, 2 tablespoons honey, 2 tablespoons warm water and mix well. Then apply to face evenly avoiding around the eyes and mouth. Apply a warm wet towel over the mask to let steam go through. Keep this on for 10 minutes, then wash your face with lukewarm water and pat it dry. This works great for puffy, tired faces.

4. Banana & Oatmeal
Bananas are the most effective natural ingredients and easy to make anti-wrinkle face cream. Mash one or two bananas until crushed and soft like cream, apply throughout the surface of the face; leave on for about 30 minutes then wash with warm water. Mixing some oatmeal to the mashed bananas acts as an exfoliating agent, reducing fine lines even further.

5. Cucumber
Cucumber juice is very effective in cleansing the face. Apply fresh cucumber juice all over your face, and cover your eyes with thin cucumber slices and take a 10-minute nap. This helps soften and refresh the skin and remove wrinkles, especially under the eyes.

6. Coconut oil
Virgin coconut oil can lift dry skin that cause wrinkles, just by applying a warm coconut oil to all parts of the face. regular application helps keep the skin firm and elastic.

7. Tomatoes
Tomatoes are a great fruit to nourish the skin. Just apply tomato juice directly on your face, or mix it with some honey to forma a sticky paste. Daily application will even out your skin tone and help reduce wrinkles.

8. Watermelon skin
Watermelon skin after washed, used to rub the face, then washed your face with clean water, it can refresh and smooth the skin.

9. Pineapple
Pineapple is a fruit that contains a lot of vitamin C, so it acts like a good wrinkle remedy. Apply the pineapple flesh on the face, such as around the eyes and mouth, and others. Let it dry for 20 minutes then rinse with warm or cold water.

10. Aloe Vera
The inner gel obtained from the aloe vera plant has properties that will nourish the skin. Regular application of aloe vera gel will replenish the fluids in the skin and also remove fine lines and wrinkles.

11. Rose Water
The benefits of rose water in skin enhancement have long been used by Indians. It contains 20 times more Vitamin C than orange. Applying a face mask made of Rose Water, honey & turmeric can significantly improve the skin's elasticity and skin tone.

12. Papaya
Mix 1 part of cooked oatmeal in 2 parts of mashed papaya & then leave the mixture on your face for 10-to-20 minutes before washing it off. This not only stretches the skin, but also adds a glow to it.

13. Strawberries
Berries have a lot of anti-oxidants which are great for reducing wrinkles. Mash up at least 4 strawberries and add Rose Water to make a paste. Apply this on your face for 10-to-20 minutes before washing it off.

14. Tomato
Add a few drops of glycerin to tomato juice & then use a cotton ball to put the juice on your skin. The tartness in tomatoes helps remove blemishes and restore moisture from within.
All these tips are wonderful to ensure firm and younger-looking skin, but you have to follow a daily routine. use one of these masks at least 2-3 times a week, and you'll see visible results in a few weeks. However, do understand that Sunlight and Harsh chemicals are the number one enemy of your skin. So keep yourself protected from the sun rays – use ample sunblock when you go out, and drink loads and loads of water to retain your skin's moisture and elasticity. Remember, ageing is a natural process, and it will affect each of u. There's no running away from it, but with some diligence and regular use of these natural remedies, you will be able to keep those ugly wrinkles at bay!
Related Beauty Articles
10 Natural Remedies To Remove Blackheads
How To Manage Stress and Feel Younger
Easy Recipes for a Spa Treatment at Home
Step-by-Step Guide for an Easy Facial at Home