Pasta is a favorite go-to meal in our family, especially when we are looking for quick and healthy options that everyone will enjoy. I particularly enjoy serving pasta because I can sneak in any veggies that I want and my 5 year old will gladly gobble them up, just because its Pasta. Plus, with a range of sauces available in the market these days, it's not at all hard to customize a pasta recipe that will win everyone at the table. I am particularly fond of the Barilla® Sauce because it has a real taste from real vegetables. It's made from all natural, quality ingredients like vine-ripe tomatoes, extra virgin olive oil and fragrant herbs. – these sauces don't smell or taste like preservatives, and I like feeding fresh to my family. Combine it with a side salad, or some garlic bread, and you have a perfect meal ready in no time.
As we welcomed Summer last weekend, I had a bounty of some fresh veggies and herbs from my vegetable garden. Hand-picked cherry tomatoes, fresh basil, mint, red bell peppers and some serrano chillies formed the inspiration behind this Spring-Time Pasta Recipe. I grabbed a couple avocados from the pantry , because everything tastes better with Avocados. And to add more flavor, I chopped up some leeks roasted garlic, and added it to my traditional Barilla® Sauce. The icing on the cake comes from shaved aged parmesan, and the resulting pasta is so fresh and inviting, that you will see yourself gobbling it all up in one go! Don't believe me, try it yourself and see!
10 Minute Veggie Pasta Perfect For Spring!
Flavored with fresh basil, cherry tomatoes, , shaved parmesan and a kick from serrano chillies, this quick-fix pasta is perfect for a breezy spring or summer evening, and is ready in 10 minutes!
Author:
www.funandfoodcafe.com
Ingredients
1 10oz packet of pasta (your choice)
1 jar of Barilla pasta sauce
2 serrano chillies, finely chopped
2 tbsp fresh basil, chopped
½ cup of cherry tomatoes
1 cup freshly shaved parmesan cheese
salt & pepper, to taste
onions, bell peppers, mushrooms, green peas, washed and chopped
2 tbsp olive oil
Directions
Boil water in a crockpot and add the pasta. Cook until as soft as you like.
Finely chop the veggies and add them to a wok with some olive oil and a pinch of salt. Cover with a lid and let them cook for 5 minutes until soft but not overcooked.
Add the pasta sauce and the serrano chillies to the vegetables. Add the fresh basil leaves, cherry tomatoes and let it simmer for another minute.
Drain the water from the pasta and toss them into the prepared sauce. Season with salt and pepper according to your taste.
Remove from heat, transfer to a serving bowl, and top it with a generous helping of freshly shaved parmesan cheese
Serve with some salad or garlic bread for a complete meal.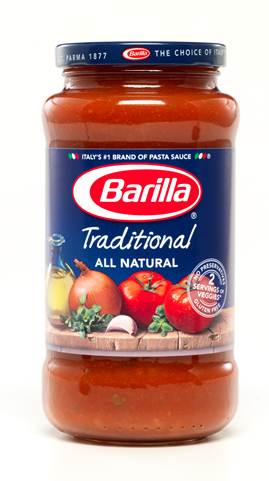 Disclosure: This is a sponsored post written by me on behalf of Barilla®. For every jar of Barilla® sauce purchased, $0.05 will be donated to Feeding America's National Produce Program which secures one pound of fresh produce on behalf of local food banks. Barilla® will make a minimum donation of 4.2 million pounds of fresh produce ($150,000) from 4/1/14 through 5/31/14.
I promise you will love this recipe. It is so easy and yet packed with fresh flavors that calls out Spring. The seasoned crouton powder adds a wonderful taste, especially if you use garlic croutons like how I did. And feel free to use whatever veggies you can get your hands on, its a great way to eat your greens without compromising on the taste and presentation appeal!
And while we are at it, please check out this fabulous GIVEAWAY courtesy of Barilla®. One lucky winner will win a special giveaway package which includes a jar of Barilla sauce and one Barilla branded wooden spoon, one Barilla® Spaghettata Bowl, and five (5) coupons, each redeemable for one (1) jar of Barilla pasta sauce. Approximate Retail Value ("ARV"): $60.
To enter, leave a comment on this post about how you give back to the local community and provide your email addresss we can get in touch with you if you win. Hurry, the giveaway ends on May 31, 2014 at 11:59 EST.