Two days ago there was a Halloween potluck at my daughter's pre-school. When I saw the sign-up sheet, there were tonnes of cookies, cupcakes, brownies, chips and juices on the list, but nothing healthy or filling! I understand these days it's mostly about convenience, and most parents prefer grabbing pre-packaged foods from the stores as they don't have time to prepare food at home. But still, as a mom who values the importance of raising healthy kids, I was determined to take a nutritious snack from home, and so I started thinking of ideas. It has to be kid-friendly, plus its a mixed crowd at school, so it can't be too indian. My first thought hovered towards Sandwiches, but then I said, "Come on Mansi, you can do better than that!" So I went for sliders – they are smaller in size than burgers, and versatile enough to hold several ingredients between those two slices of dinner rolls! I zeroed in on Paneer as my star ingredient – it's similar to cheese, and mild enough to take on the flavor of other ingredients in my recipe. When i started thinking healthy, two things came to my mind – Avocado and Cheese. Kids love these ingredients, and they all seemed to gel well together, that's how my Grilled Paneer Sliders were born, and to deck them up I went for the Tomato Avocado & Mint Salsa, and how beautiful they turned out, you can see for yourself!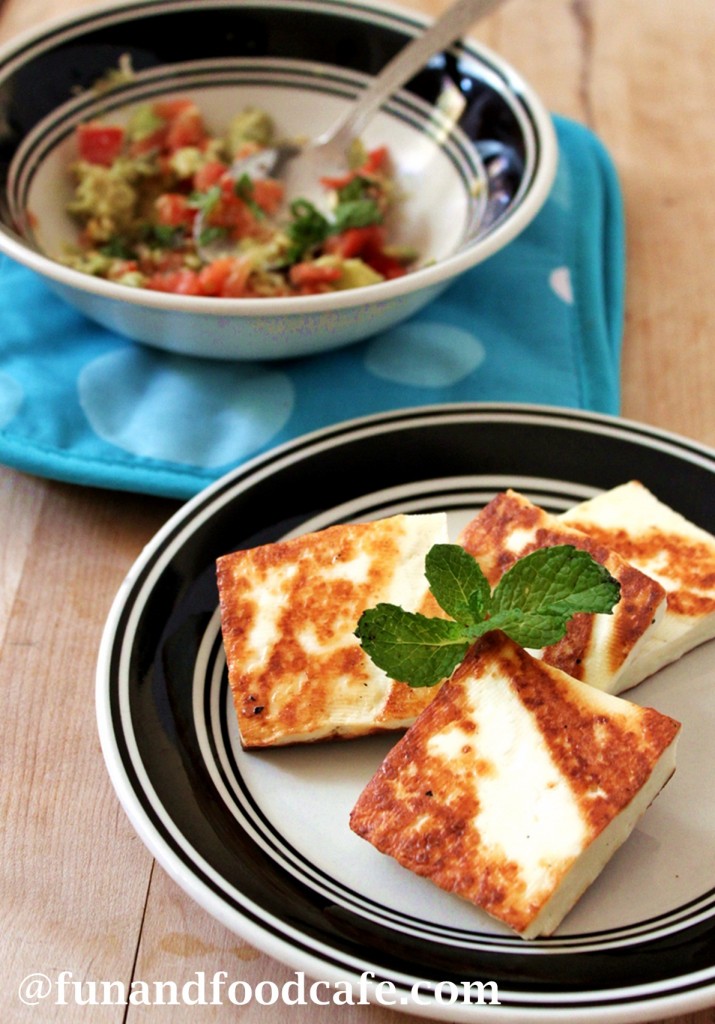 I started with thick chunky slices of paneer and sautéed them in Ghee, or clarified butter. You could use oil or butter, but I just love the flavor and aroma of roasted ghee! Then sprinkle some salt and Tandoori Masala on the slices and let them marinade. You can skip this if you think it might be spicy for your kids. Meanwhile, make you Avocado Mint Salsa by chopping some tomatoes and fresh mint, then add this to freshly scooped Avocado pulp, and spice it up with some lemon juice and rock salt.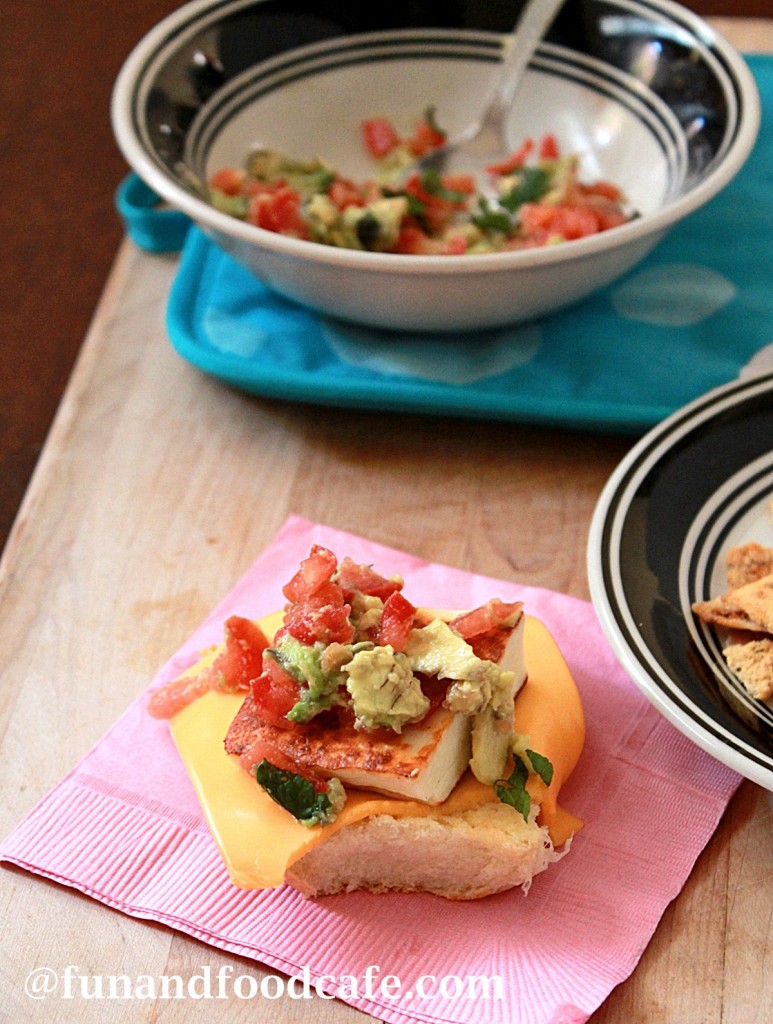 Next its time to assemble your burger. I used King's Hawaiian Dinner Rolls to make my sliders, because I love their sweet taste. Slice the dinner rolls from one side and apply butter on both sides. Then put a slice of cheese, top it with the grilled Paneer, followed by a generous helping of the Avocado Mint Salsa. You can of course add ketchup or mayo to make it more juicy, but I think this works best for kids as it doesn't get messy when they eat them. If you like, just pack each slider in a wrap or brown bag, and its a great option for picnic lunches.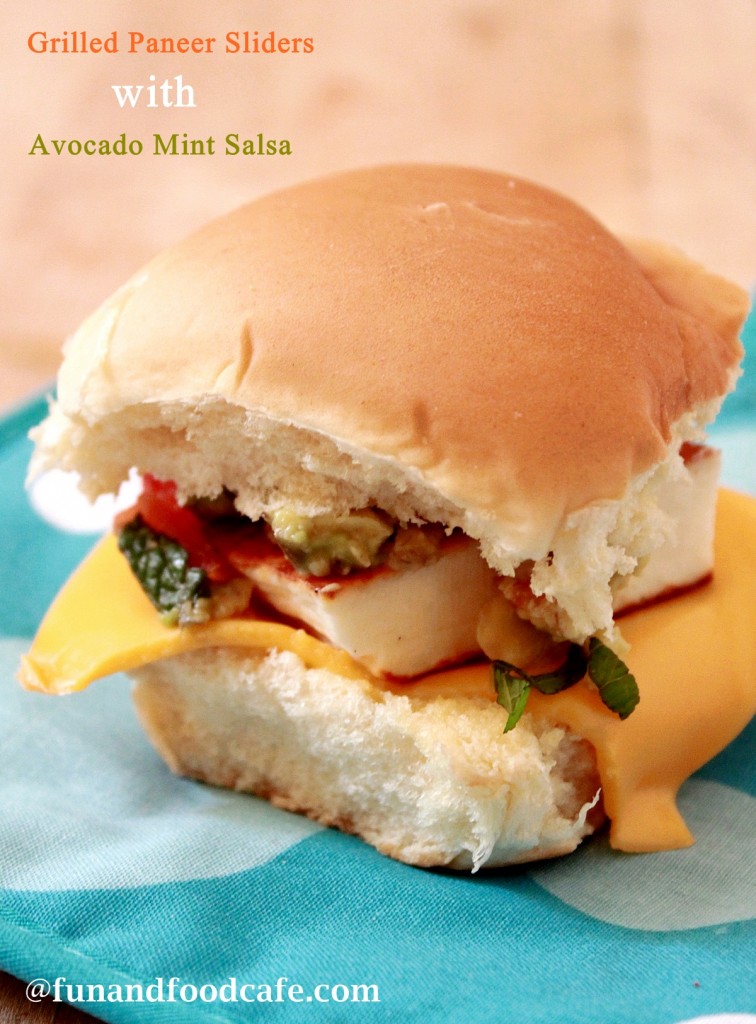 Grilled Paneer Sliders
These delicious sliders are made of grilled paneer (cottage cheese) and some fresh avocado and mint salsa. Full of flavor and extremely kid-friendly, these are perfect for picnics or potlucks.
Author:
www.funandfoodcafe.com
Ingredients
1 pk King's Hawaiian dinner rolls
6 oz slab of paneer
1 ripe avocado
1 large firm tomato, finely chopped
few mint leaves, finely chopped
1 tbsp butter
1 tbsp ghee (or butter)
salt, pepper and lemon juice, to taste
slices of cheese
Directions
Slice the paneer into ½ inch thick slices. Saute them in a pan with some ghee or butter until grill marks appear on both sides.
Remove from the pan and sprinkle some salt and tandoori masala on them and let it sit to marinade.
Meanwhile, scoop the flesh of the avocado and mash it with a spoon. The add the chopped tomatoes, mint, salt, pepper and lemon to make your salsa.
To assemble your sliders, slice your dinner rolls into half and butter them on both sides.
add your sliced paneer, top it with a slice of cheese and melt it in the microwave for 5-8 seconds.
Then top it with the avocado salsa and serve.
It was very easy to make these Paneer Sliders and take them over to my daughter's school. They stayed nice and moist as I had packed them in individual wraps and put them in a tray. We just had to pop in the entire tray in the microwave for a minute or so to melt the cheese and soften the paneer. The kids loved these Mini Burgers, as they called them, and most Moms were asking me for the recipe. All in all, it was a big hit, and I felt proud that i had made something nutritious and delicious for the kids. So go ahead and try these at your next picnic or party, and don't forget to come back and let us know how they turned out!