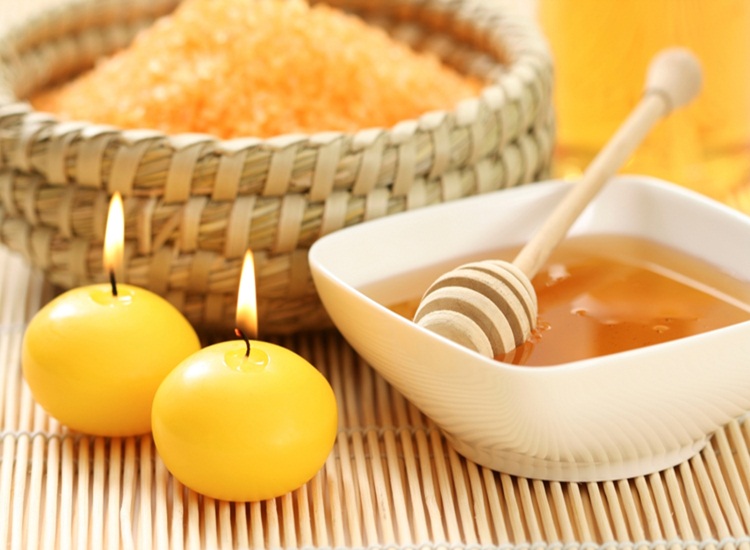 While the idea of spending an entire day at a relaxing spa sounds amazing, most of us don't have the time or money to pamper ourselves to that extent. It would be wonderful to have someone work on your face, body and hair, making you feel gorgeous, even for that one single day. And yet, for most of us, the cost of this indulgence is not something that our budget allows, but that does not mean that you cannot look pretty and beautiful, or enjoy similar spa-kind-of-experience in the comfort of your home! In fact, to make it even more authentic, just ask a favor from a friend – request them to be your beautician for the day, and let them pamper you, just like in a salon. However, make your own spa-recipes at home, using quality ingredients that are fresh and free of any artificial additives! You don't even need a special trip to the supermarket to create your own spa recipes – a quick rummaging through your pantry or refrigerator will mostly get you all the ingredients you need to get gorgeous on a budget!
Here are some luxurious recipes that have been tried and tested by many, and are guaranteed to make you feel like a queen and look like a princess- without spending your savings account at a pricey day spa. I have gathered them from around the web, and have tried them myself, so I can vouch that they work!
So what are you waiting for, read on for six fabulous recipes to help you get gorgeous without leaving the comfort of your home:
Softening Bath Soak
If you're anything like me, a soothing bath is a luxury that you like to take advantage of whenever possible. While baths are super relaxing, oftentimes, they actually dry out your skin. Concocting this DIY soak to relax in will keep your skin soft, and the scent of the rosewater will literally remain in the bathroom for days! It's a win-win situation, and you just cannot go wrong with this!

Make the most out of your bath-time by mixing 1/4th cup rosewater and 1/4th cup coconut milk. The soothing benefits of the rosewater and the creamy consistency of coconut milk will make your skin extra soft and super silky. When you exit the bath, immediately towel dry and slather coconut oil on your skin for extra moisture. Your skin will retain this moisture for a long time, making you feel soft and fragrant, at least for a couple days.

Cranberry Anti-Aging Mask
Cranberries are a powerhouse of antioxidants, the same that are good for your skin, as well as your body. This mask is great to firm and tone your skin, by helping to produce collagen. The benefits of this masque can be seen after each use; your skin will appear smoother, more toned, and plump in all the right places.

Mix 1 cup fresh cranberries, 1-cup seedless red grapes, 2 teaspoons grapefruit juice, and 1 envelope unflavored gelatin together until they form a paste-like consistency. Cover and let sit in the refrigerator for 45 minutes to thicken. Spread over your skin, avoiding your eyes, and leave on for 15 minutes. Rinse and repeat again once a week! (Recipe via Sheknows.com)

Apple Facial Toner for Sensitive Skin
Having sensitive skin isn't all that bad when you know what works for your unique skin type. There are many natural ways to take care of sensitive, break-out prone skin. The toner is exceptional because it's easy to make, is soothing, and can be used before bedtime or throughout the day.

Mix 2/3-cup witch hazel (a natural astringent), 1/3-cup apple cider vinegar (restores your skin's natural PH. balance), and several drops of an essential oil of your choice. Put in a clean bottle (Plastic bottles at www.ebottles.com work perfectly for this type of mixture). Shake before using and dampen a cotton ball with the mixture. (Recipe via BeautyLish.com)

Brown Sugar Lip Scrub
As the weather warms up, lips often get dry and begin to crack from the sun's harmful rays. Although chap stick is a quick fix, a lip scrub will minimize dryness and keep lips smooth and luscious. We love this recipe because of how beautifully the ingredients blend together, creating the perfect treatment for sensitive, but dry lips.

Mix equal parts coconut oil and honey and blend together. It should look thick because it will essentially be the base of the scrub. Add 2 teaspoons of brown sugar and fold into the mix. Add one teaspoon of coconut oil and transfer the scrub to a small jar or container. You can store this in a cool dry place, and use it for more than a fortnight, before its time to whip up a new batch.

Banana and Sugar Body Scrub
Everyone loves a good body scrub, but oftentimes, they're too harsh for skin that's on the more sensitive side. Or they have additives and fragrances, which can irritate sensitive skin. I love my Homemade Lavender Sugar Scrub, however, this new recipes that involves bananas, is a new favorite too. The bananas in this mixture make it much less abrasive, while the sugar helps to remove unwanted dead skin cells.

When your bananas begin to get old, grab 1 ripe banana and mix it together with 3 tablespoons of granulated sugar. Add 1/4th teaspoon of your favorite essential oil, like Almond or Coconut oil, and you're done! Be careful not to over-smash the mixture or it will get too thin. This mixture is gentle enough to be used on the face and neck as well. Scrub gently in circular motion with your fingertips, and rinse off with warm water.

Green Tea Mist
As the summer sets in, an mid-day "pick-me-up" is a must-have for most of us, and you'll be surprised how effective a bag of green tea can be, to relive your stress and make you feel fresh, with one quick spray!

When you wake up in the morning, brew a batch of green tea. Let it cool completely, and then pour it into a spray bottle. While you're at the office or on the go, spritz your face for an all-natural, antioxidant-rich treatment that will keep your face glowing and fabulous. Remember, green tea loses its antioxidants in a few hours though, so be sure to brew a new batch daily. It doesn't take more than 3 minutes per day.
Having a relaxing day at the Spa is a rewarding experience for most busy Moms like us. However, if you don't have the time, or the budget, don't deprive yourself of a fulfilling day at home, especially now that you have a collection of home-spa recipes that you can whip up in no time. Get everyone out of the house, except a friend who'd be willing to be your helper for the day, and indulge in a day of relaxation. Or plan a Girl's Night In, and use these spa recipes to pamper each other.
What are some of your favorite ways to pamper yourself?