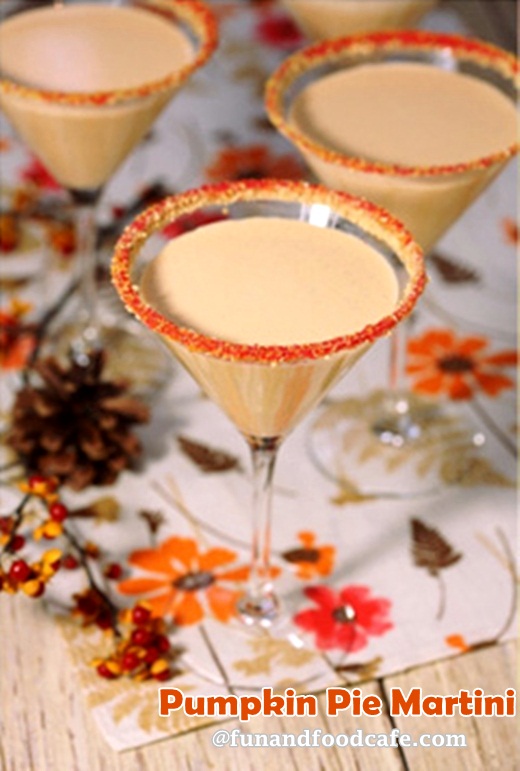 Pumpkin season is on, and until now, I have only had the Pumpkin Gingerbread Cocktail before featuring pumpkins. But this deliciously simple recipe easily wins the race for Fall cocktails. This quick and really easy Pumpkin Pie Martini can be ready in minutes. It has a lovely flavor of pumpkin spice that blends well with the vodka. The cream liqueur combined with Kahlua pumpkin spice makes it mild yet flavorful, so it does not taste like hard liquor. And the splash of orange food color gives it a beautiful look that is pleasing to the eyes. Use some orange-colored sugar to coat the rim of your Martini glasses, and you have a ravishing cocktail to serve your friends and family!
I haven't been a fan of pumpkins for long, until recently when I urged myself to try it in recipes, not for its taste but for its nutritious value. And as I experimented with it, I started developing a liking for it, and now I know why some people go crazy over these orange fruits in the Fall season. I love that it can take on the taste of any other ingredient pretty well, like coconut milk, cream, plain milk, any kind of spices, and of course, it lends a lot of texture to several baked goodies. Full of vitamins, fiber and anti-oxidants, I have pledged to use it more in my recipes, so let's kick-start with this gorgeous Pumpkin Pie Martini!
Pumpkin Pie Martini
The flavor of pumpkin pie in a smooth cocktail version. Serve this Pumpkin Pie martini at your holiday gathering and you'll be sure to gather loads of compliments
Author:
www.funandfoodcafe.com
Ingredients
1 part Kahlua pumpkin spice
1 part cream liqueur
1 cup half and half
1 cup ice
½ tsp pumpkin pie spice
a dash of orange food color
some granulated sugar, orange colored
Directions
Dip the rim of the martini glasses in colored sugar.
Mix all the ingredients in a cocktail shaker.
Pour the drink into glasses and serve immediately.
To make the colored sugar, just add orange food coloring to granulated sugar. Mix well, and let it air-dry overnight. Then store it in an air-tight container until ready to use.
This is a lovely seasonal cocktail to serve at your next Holiday gathering. With its orange-rimmed glasses and a lovely light orange hue, doesn't it look beautiful and inviting?! What are some of your favorite Pumpkin recipes or Fall cocktails? If you are looking for some ideas, try these delicious Holiday Cocktail Recipes