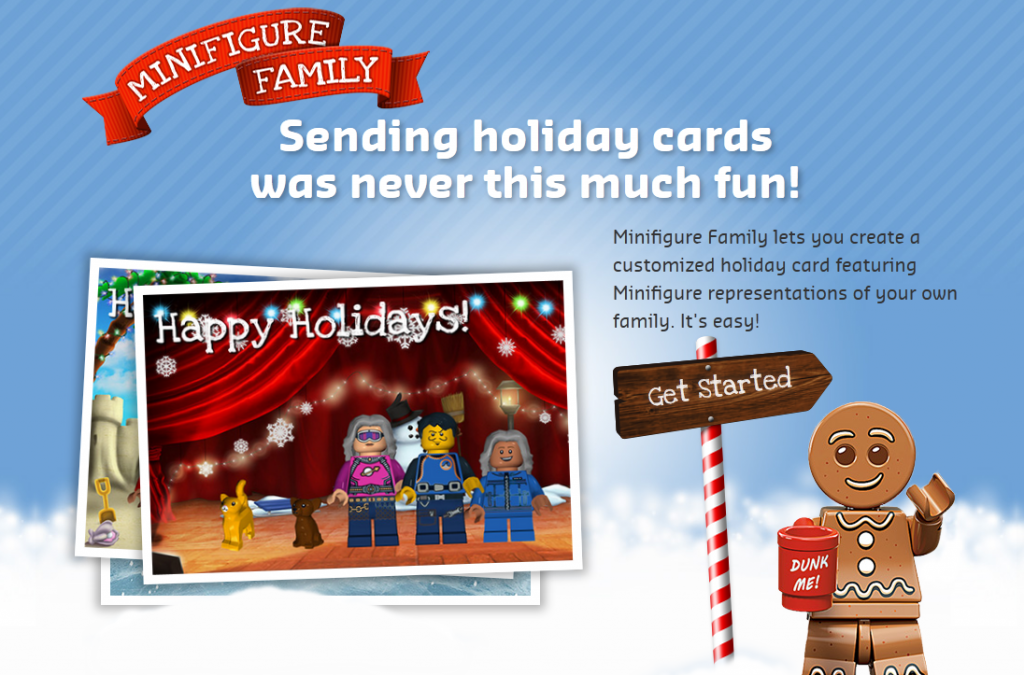 I am sure all of you have started buying Christmas presents and started making Holiday cards to send wishes to friends and family. I know people don't have much time in this cyber-age, and everything is done online, but I still prefer making my own cards and mailing them to family. However, when I was asked to review this quirky and cute software to make your own LEGO Minifigure Family Holiday Card, I simply couldn't resist. As you know, every kid loves LEGO, and my daughter is no different. She loves creating castles and parks and gardens and imaginary structures with her LEGO set, so when I asked her if she would like to help me make our own LEGO family on my laptop, she jumped with joy.
When you open the site to make your card, you will see a beautiful backdrop with some demo figures to start with. You can create and customize LEGO figurines for all your family members, adults, children and even a baby, which sports a little stroller, as you can see in my image above. With more than 50 styles to choose from, for hair, hats, skin tone, tops and bottoms, even facial expressions, its fun to let your creativity go wild. My daughter had lots of fun trying to create funny versions of Daddy and make a Mommy, complete with make-up on her face, a little stroller for her baby brother, and of course she tried all variations of pink, purple and green dresses to adorn her own figurine before finalizing on one!!
All in all, its a fun experience creating your family, and then you can choose from more than 10 scenes as a backdrop – the scenes themselves are great inspiration of what you can build with LEGOS at home, and you can customize your card with a favorite Holiday message, whatever you wish to write on the card. And if after everything is done, you don't really like the look of yourself, don't worry, you can go back and edit each person again, until you are completely satisfied with the picture.
Once you are satisfied with your card, its time to share it with your friends and family. You have 3 ways to do it, send via email, download the photo to your PC, or embed the link (in case you want to wish happy holidays to all your friends on Facebook!!) There, 3 easy steps and done – the final card looks really cute with all the LEGO figurines, and it instantly connects with adults ans well as kids in the family, making it a fun experience for all.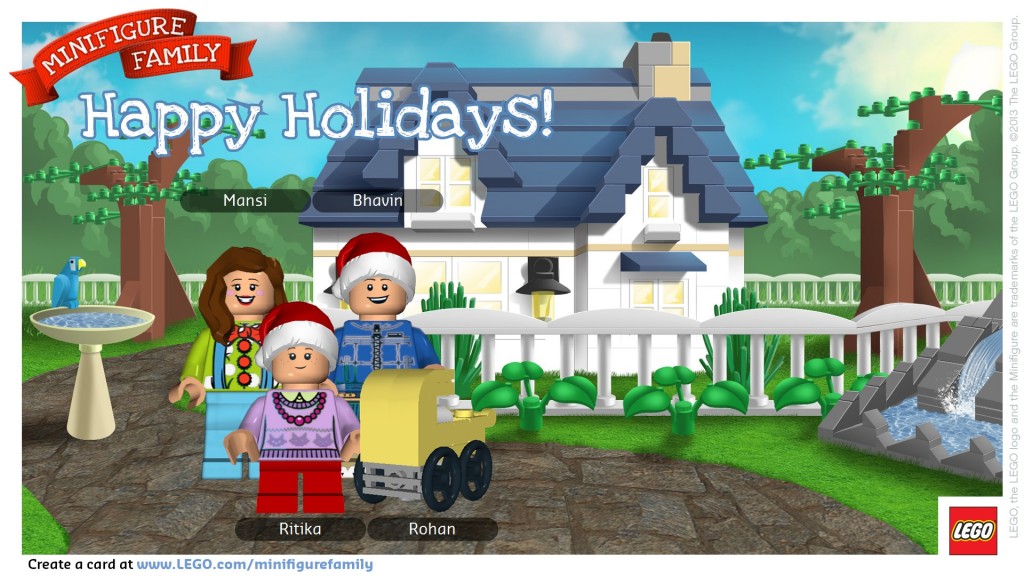 We had lots of fun trying this out, and if anyone in your family loves LEGO, then I would urge you to try it too – the pics, graphics and settings are so pretty you and your child will have a great time personalizing your own card. So what are you waiting for, go to minifigurefamily.com and start working!!
This is a Sponsored post written by me on behalf of LEGO for SocialSpark. All opinions are 100% mine.