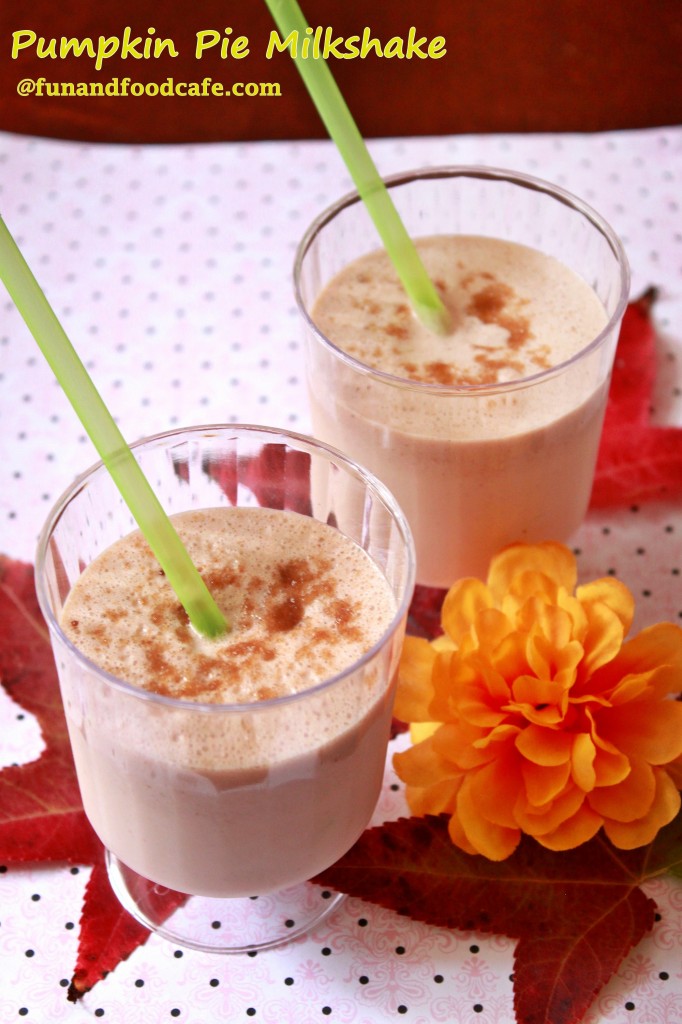 Halloween is gone, and so are the Jack-o-lanterns which fulfilled their duty on the trick-or-treat night, but we still have some mini pumpkins left from our trip to the pumpkin patch, so I have made a batch of Homemade Pumpkin Puree and stored it in the freezer. So as promised, you'll be seeing a couple more Pumpkin recipes before we bid goodbye to Fall! I am not a great fan of pumpkin, but I do enjoy Pumpkin Cupcakes, and sometimes a hot Butternut Aquash & Pumpkin Soup. Oh, and do you remember Dairy Queen's amazing Pumpkin Pie Blizzard? It is one of my favorite pumpkin treats. The thick, creamy concoction instantly lifts me up on a warm Autumn day. In an attempt to re-create it, I made a Pumpkin Pie Milkshake at home last week, and everyone in our family enjoyed it. If you are going to host a Halloween party at your place and are in need of a crowd-pleasing drink recipe, then this post is just for you, because in this recipe, I have added a secret ingredient that transforms this milkshake into a grown-up milkshake, so its ideal for the adults at your party, and of course, you can omit it for the kids – so its the perfect drink for everyone!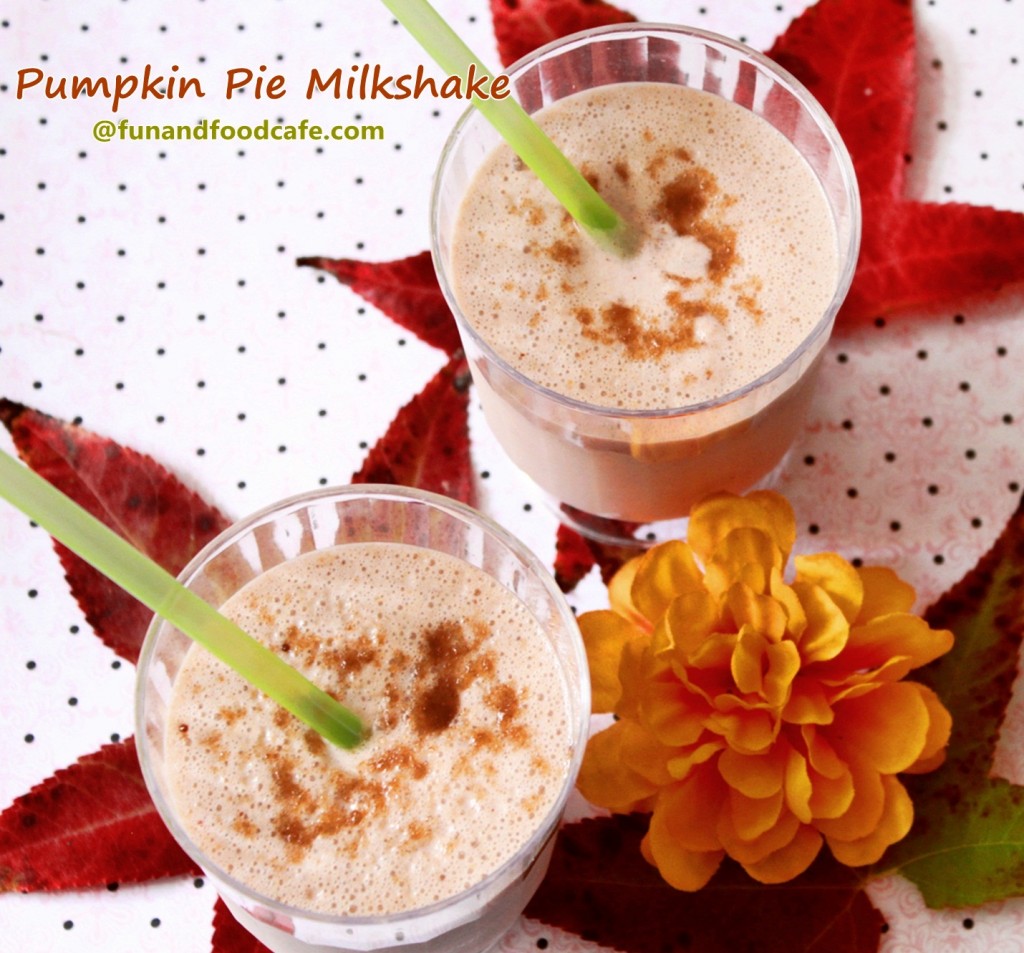 This magical secret ingredient that I am talking about is the Kahlua Pumpkin Spice Liqueur, which is their Holiday Season special edition. I am sure you've tasted and enjoyed other Kahlua flavors before, and this one is definitely a spectacular addition to their lineup. The moment I heard that they had introduced this flavor just for Autumn, I knew I had to try it – it smells heavenly, like a Fall bouquet of spices, and its light yet refreshing taste adds just the right amount of kick to my Pumpkin Pie Milkshake. And just in case you are not a milkshake person, then you should try the Pumpkin Pie Martini instead – I promise you will love it!

Grown-Up Maple Pumpkin Pie Milkshake
Blended with ice cream graham cracker crumbs, pumpkin pie spice and maple syrup, these Grown-up Pumpkin Pie Milkshakes with kahlua are perfect for a holiday gathering
Author:
www.funandfoodcafe.com
Ingredients
1 part Kahlua Pumpkin Spice liqueur
2 part heavy cream
2 parts whole milk
1 tablespoon vanilla extract
1 tablespoon maple syrup
⅔ cup pureed pumpkin
½ tablespoon pumpkin pie spice
2 cups vanilla ice cream
⅓ cup graham cracker crumbs
Directions
Add all ingredients to a blender and mix until combined.
Wet the rim of your serving glasses with water, and dip them in sprinkles or crushed graham crackers.
Pour in the shake and sprinkle cinnamon on the top.
Add some whipped cream if you like and serve immediately.
Pumpkin and Fall go hand in hand, so you'll see quite a few pumpkin recipes on this blog from now until November. We loved this milkshake, its perfect on a warm day in Autumn – enjoy it on your patio taking sips of this creamy concoction as you watch the leaves turn orange to crimson, and finally fall into your yard. Soon it will be time to rake the leaves (the part of fall that I really hate!!), but this Pumpkin Pie Milkshake will help you ward off some of those blues, and you can even entice your kids with the liqueur-free version to help you pile up some of those leaves!
To get inspiration for more great recipes and entertaining ideas with Kahlúa and for a chance to win the ultimate holiday party, please visit www.kahluaholiday.com.
This is a sponsored conversation written by me on behalf of Kahlúa. The opinions and text are all mine.