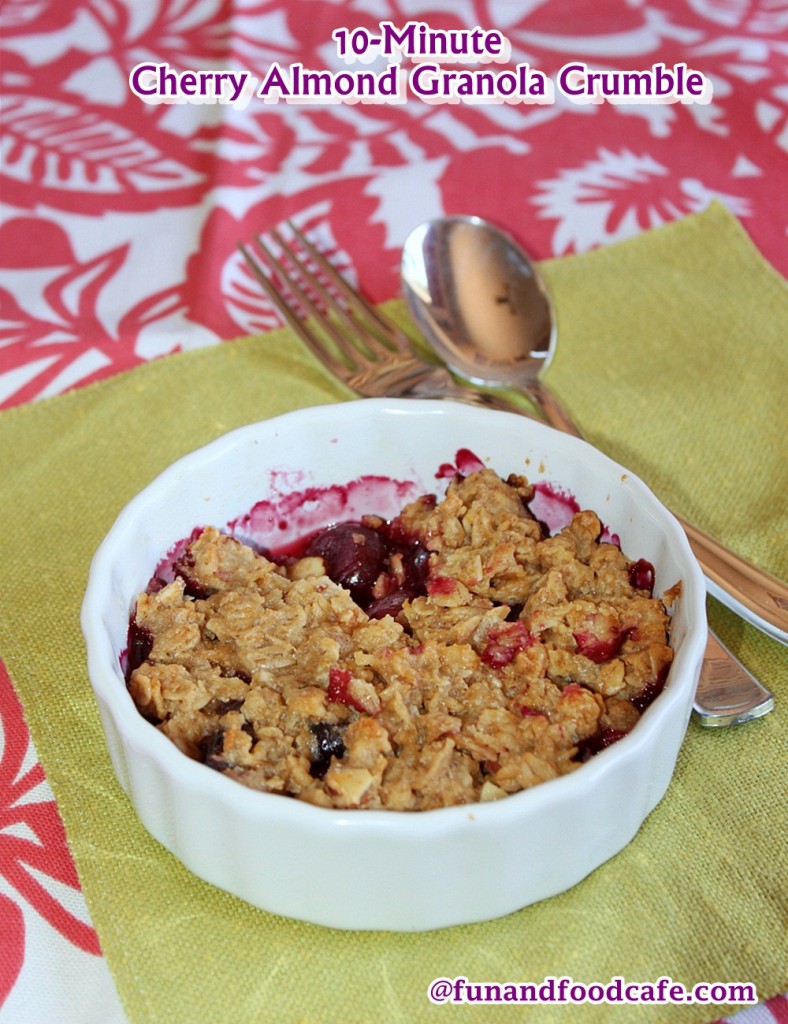 I love the variety of stone fruits that adorn the markets in the summer, out of which, peaches, plums and cherries are my personal favorites! Unfortunately this year we did not have a great cherry season, but I am happy I was able to grab some bags of fresh cherries off the grocery aisles before it disappeared from the scene altogether. My daughter also loves cherries, and last week when I received a package from Naturebox, which contained a bag of Cherry Granola, among several other things, I instantly knew what I would be making for my daughter's summer school picnic – a quick and easy Cherry Granola Crumble that takes less than 10 minutes to bake, and tastes more than delicious when topped with whipped cream or ice cream!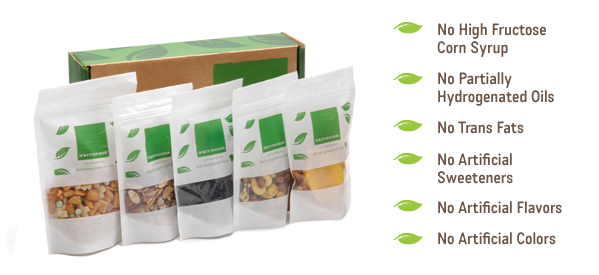 But before I go into the recipe, I have to highlight the wonderful package that I received from Naturebox, a family-friendly subscription service of healthy, wholesome and nutritionist-approved snacks that are delivered to your doorstep each month, ready to nibble on! I received my first shipment last week, which contained a variety of wholesome products like Plantain Chips, Tuscan Nut Mix, Sweet & Spicy Fruit Mix, Mango Almond Crispies, and of course, the Cherry Almond Granola. Naturebox delivers in 3 sizes, so you can choose and customize the snacks that your family enjoys; they are also a great option for people on the go like college students, new parents, summer campers, or just about anyone who loves healthy wholesome and delicious snacks. Check out their products and recipes on the NatureBox Blog if you like.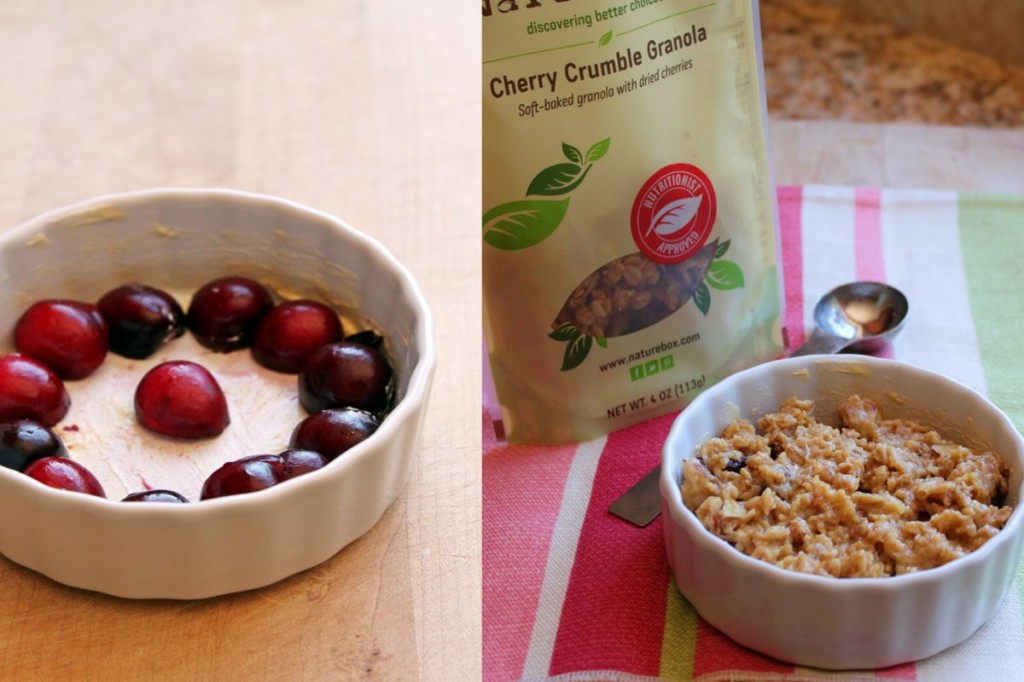 The recipe I chose is really simple, but immensely satisfying as a fresh and fruity treat in Summer. I used fresh Cherries, but you can easily substitute these with frozen cherries too, or other stone fruits like peaches, plums or even berries. And I loved the idea of replacing flour and butter in the recipe with a healthier alternative in the form of granola. These days, you can find so many different types of Granola mixes in the market – choose one with a higher nutritional value, like something with berries, chia seeds, nuts, and as less sugar as possible. Granola not only gives a nice golden crust to this cobbler, but also shortens the baking time. The rest of the recipe needs no explanation – its a dream-come-true for a novice baker, in fact easy enough to enjoy some quality baking time with your younger kids. Just sit back and watch as the dessert bakes in less than 5 minutes, and enjoy this moment with a loved one!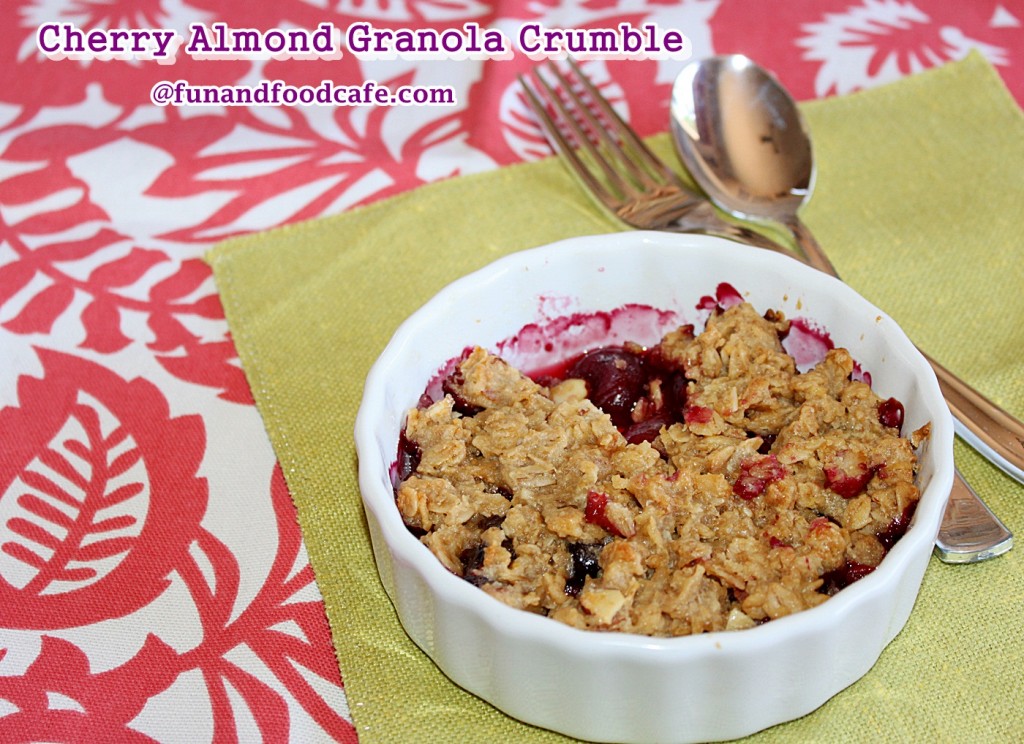 Cherry Almond Granola Crumble
Use fresh cherries and some baked almond granola to bake a Cherry Crumble or cobbler that is ready in less than 10 minutes!
Author:
www.funandfoodcafe.com
Ingredients
4 cups fresh pitted cherries
4 tablespoons butter
⅓ cup packed brown sugar
2 cups baked Cherry Almond Granola
½ cup all-purpose flour
½ teaspoon cardamom powder
Directions
Cut the cherries into halves. Heat oven to 375°. Lightly spray 6 ramekins ramekins with baking spray.
Arrange the cherry halves upside-down inside the ramekins.
Combine all the other ingredients and, using fingers, sprinkle evenly over each filled ramekin.
Put ramekins in the oven with a sheet of foil or baking sheet on the rack below to catch drips. Bake for 25 to 30 minutes, or until browned and bubbly. I baked only one ramekin, so it took me less than 5 minutes to bake my dessert.
Remove from the oven, let it cool a bit, and serve warm, topped with ice cream or whipped cream.
Also, NatureBox is running a promotion for 50% off your 1st box. So use the promo code #SUMMERSNACKS and get a taste of some delicious snacks.