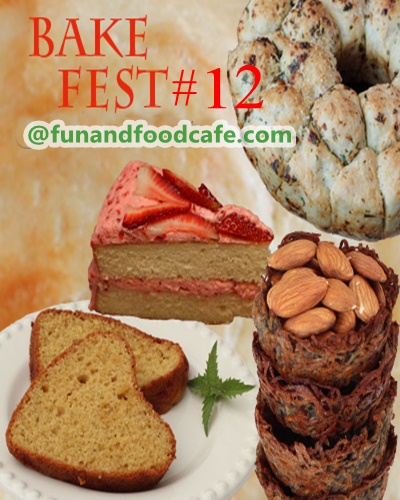 Its October already, and as far as Holiday Season goes, I think its time to turn on your ovens and start baking treats for you and your family! Cookies, cakes, muffins, pies and all tasty treats that you have on your wishlist, this is the time to dig out those recipe printouts, review your bookmarked recipes or scourge your cookbooks to start making desserts that you are going to enjoy through the entire holiday season! And what better way to kick-start all kinds of Holiday Baking than by announcing the latest version of BakeFest #12, a blog even originally started by Vardhini of Cook's Joy, and guest-hosted by yours truly for the month of October!
There are a few simple rules to participate, and the event runs from Oct 1st to Oct 31st, 2012:
1. Send in any recipe which has been baked or broiled.

2. Only vegetarian or vegan recipes please, however, eggs are allowed in all baked recipes.

3. Usage of the logo is appreciated as it helps spread the word.

4. Link to my BakeFest#12 @ FunAndFoodCafe page and to Vardhini's page is mandatory. If sending an old entry, it needs to be re-published with the links.

5. You can send in any number of new entries and a maximum of 2 old entries.

6. Use the Linky Tool at the bottom of this post to submit your entries.

7. Again, the deadline for submitting recipes is Oct 31st 2012.
So what are you waiting for? Start baking and send in your entries so you can start sharing your creations with the rest of the cooks out there!
______________________________________________________________________________________________________________________________________________________