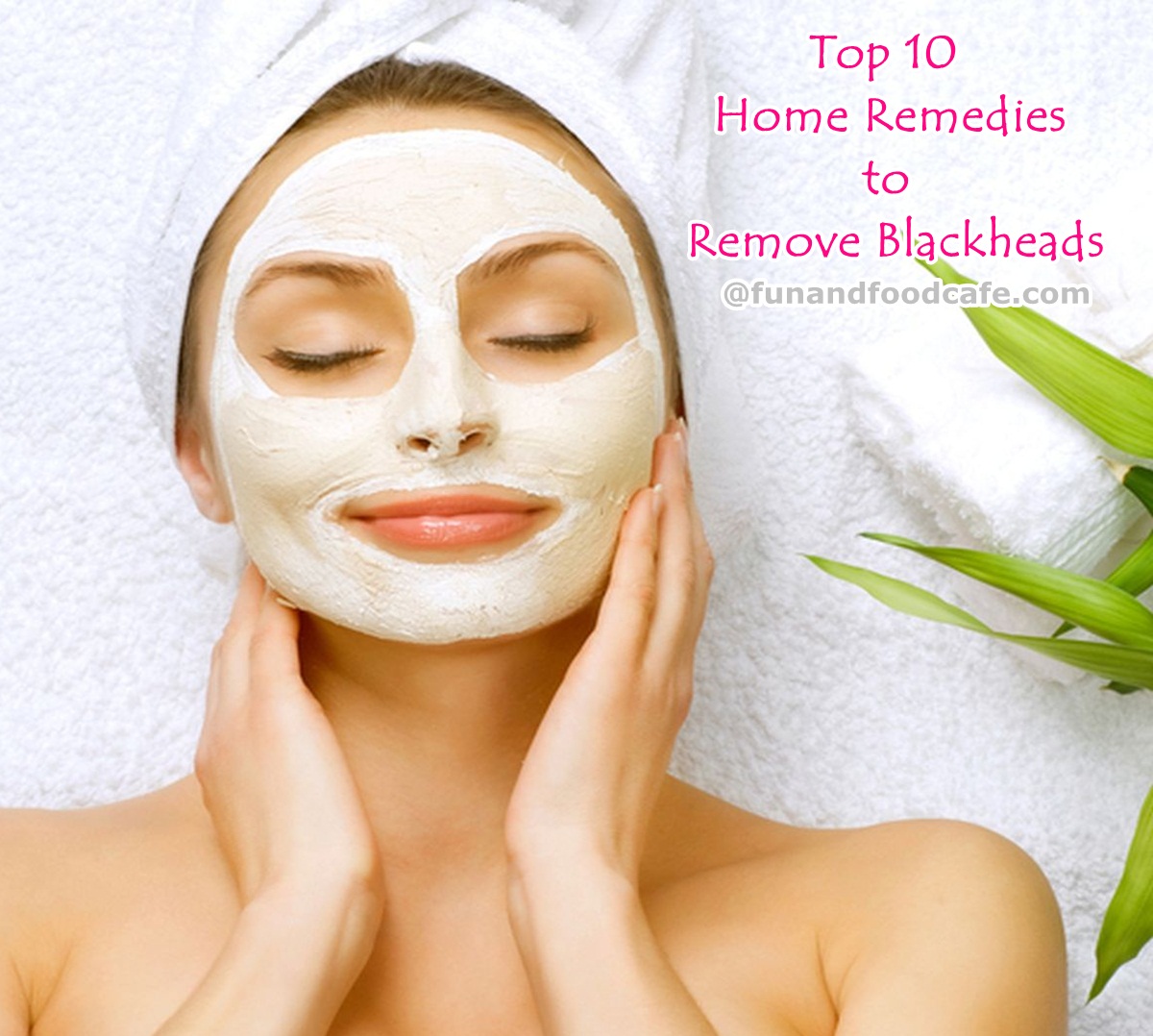 Blackheads are also known as 'open comedones' in the medical terminology, but for you and me, they are simply the first stage of acne, and are generally caused due to poor hygiene, excess generation of facial oils, poor diet, poor digestion and possibly thyroid disorders. Exfoliated skin, dirt, and bacteria congeal beneath the outer layers of skin to form unsightly blemishes, which are called whiteheads, or if too much dirt is trapped underneath, these whiteheads get oxidized and become blackheads. Then, once bacteria get a chance to enter these "open pores", it gets transformed into an infection and inflammation, leading to pimples and acne. Though most common on the nose and other areas of the face, Blackheads can be found everywhere on the body, mainly face, neck and back. Removing blackheads can be painful, messy, and usually needs a dermatologist to have them esthetically removed. However, there are several natural and safe home remedies that you can turn to, both to prevent blackheads, as well as remove them gradually, without spending tonnes of money or time!
So, what is the best method to remove blackheads? Most doctors and dermatologists agree that establishing a proper personalized acne treatment system is essential.. A strict skincare routine that involves Steaming, Cleansing, Exfoliating and Moisturizing is the key to prevent any kind of skin problems. But as we all know, its easier said than done, especially when you are at work 8 hours a day, then run off to pick up kids, cook dinner, complete household chores, and relax a bit in front of the TV or fireplace, before flopping onto the bed and calling it a day! That is the reason why I wanted to share a few safe and natural ways to effectively improve your skin and remove or reduce blackheads, by spending just a few minutes every day. Let's see what each one does.
At-Home Remedies For Blackheads

1. Use a Natural Clay Mask
Combine 1 Tbsp cosmetic clay (or you can use what is called multani mitti in India) with 1 Tbsp apple cider vinegar (or pure water) and stir until you have a paste without lumps in it. Spread over your whole clean face, or just the areas where you have blackheads. Allow this to dry for 15-20 minutes. Take a warm, wet washcloth and press it to the mask for a few seconds, and then slowly and gently wipe it off.

2. Use Honey on your Face
Wash your face with warm water and wipe it with a clean face towel. Take 1 tbsp honey and apply it evenly on the face, especially around the areas most affected by blackheads. Leave it on for twenty minutes, until it dries and your skin feels stretchy, then rinse it off with warm water. Do this every day at bedtime for 2 weeks and you will see very noticeable results.

3. Milk & Sandalwood Mask
Make a thick paste with equal parts sandalwood powder, turmeric powder and milk. Apply evenly on the face, massage gently with fingertips for a minute or so, then leave the mask on for 20 minutes. Wash off with cold water and pat dry, then moisturize your skin with a natural lotion.

4. Oatmeal & Lemon Juice Mask
Make a sticky paste by using 2 to 3 tablespoons of yogurt, 1 to 2 tablespoons of oatmeal, 1 tablespoon of olive oil and 1/2 a tablespoon of lemon juice. Mix it in a container or grinder. Apply the paste over blackheads and let it dry for 30 minutes. Then wash your face with cold water.

5. Tomato Paste
Mash a Tomato and apply it over the blackheads on your face, but away from your eyes. Leave for 20 minutes and rinse off with water. Follow this home remedy regularly to get rid of blackheads.

6. Besan & Turmeric Mask
Mix 2 tbsp gram flour with 1 tbsp yogurt, 1/2 tsp turmeric powder and 1 tsp honey. Form a paste and apply on face, leave on for 20 minutes. Then wash it off with lukewarm water. Besan (gram flour) acts as a natural scrub, cleaning out the pores and removing blackheads, while turmeric helps remove the blemishes and even out the skin tone.

7. Oatmeal & Rosewater Scrub
One of the best home remedy to get rid of blackheads is a paste of 2 tbsp oatmeal powder combined with 1 tbsp rose water. Apply it on your face for 20 minutes, then wash off with lukewarm water. This natural exfoliation process removes blackheads as well as prevents new ones from coming up.

8. Baking Soda & Honey Mask
Make a paste of honey, lemon juice, and just a pinch of baking soda, apply on the face and leave for 15 minutes, then rinse off with lukewarm water. This is one of the best home remedies to remove blackheads.

9. Lemon Juice & Cinnamon Mask
Mix 2 tbsp lemon juice with 1/2 tsp cinnamon powder and apply for 20 minutes to your blackheads in face and nose. Your face skin will be exfoliated with this home remedy for blackheads.

10. Lemon Juice & Sugar Scrub
Put few drops of lemon juice in one spoon of sugar and rub gently on your face, nose and cheeks in circular motion. This home remedy will remove blackheads and dead cells, making your skin clear and instantly glowing.
When it comes to healthy, beautiful skin, prevention is better than treatment, but that does not mean that you can't so anything to improve your skin once it gets affected. Mother nature is full of substances that can help restore balance in your skin, making it blackhead-free, acne-free and beautiful again, all it needs is due diligence and patience. These natural at-home remedies have worked for a lot of people, and may very well work for you too. Pick a couple remedies that you like and practice them everyday, until you see noticeable reduction in blackheads.
Do you suffer from blackheads? what are your favorite at-home remedies? Have any of the ones stated above worked for you? Please share your experiences so others can benefit from them!
Disclaimer: While my attempt is to bring you well-researched information, I am not a certified beautician or medical doctor, so please take the advice given here at your own risk.