Here comes another delivery of the much awaited Popsugar Must Have box, and this October surprise has lots of goodies to keep me excited!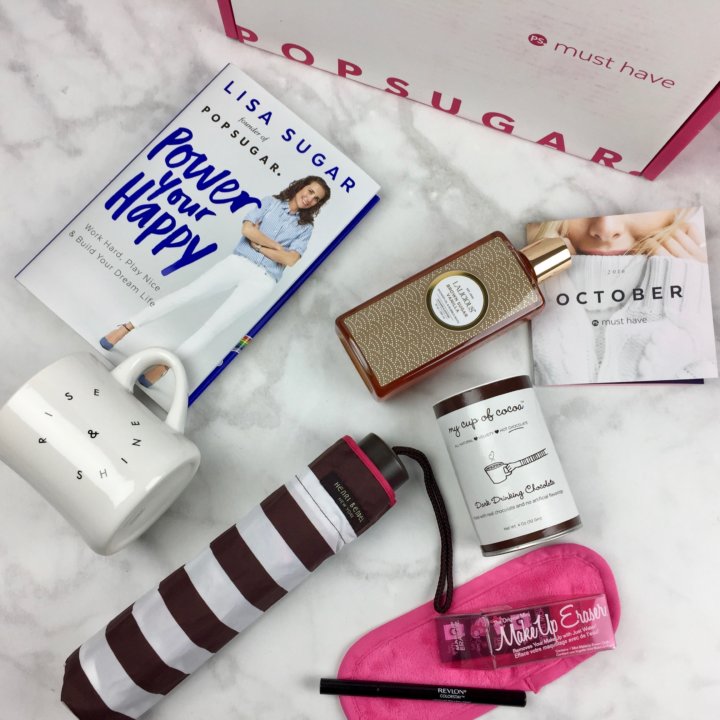 The first thing that grabbed my eye hen I opened the box was the Brown Sugar Vanilla body scrub – it smelt so delicious, and it worked even better! Be sure to feel pampered and indulgent after a shower, then perk yourself up with the Revlon Pencil Eyeliner – it is super easy to use, and I'm so happy I won't have to deal with smudging and accuracy that my Liquid Eyeliner demanded.
Next comes the wonderfully delicious Gourmet Hot Chocolate powder, my kids enjoy this every nght, definitely brings a cheerful warmth to Fall evenings. And the trendy Henri Bendell Umbrella in chocolatey tones is perfect to fit in your tote!
And last but not the least, I loved Lisa Popsugar's book Power Your Happy; I've only read 10 pages, but I feel I can connect with her already! If you are eager to try these goodies, go order a box for yourself
Order your Popsugar Must Have box, and experience the pampering yourself!