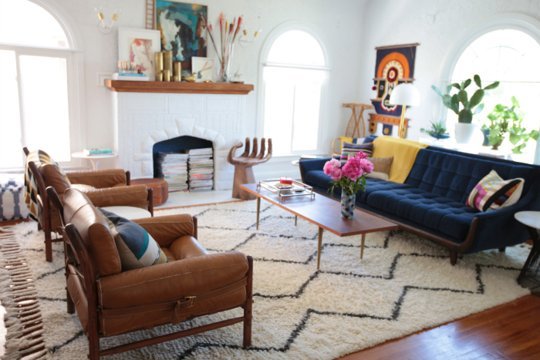 Your living room is supposed to be cozy and relaxing. It is meant to be a place where you can unwind after a difficult day at work. After you have been rushed off your feet all day long, you want to chill on the sofa, watch your favorite TV show, and unwind. However, it is very difficult to do this if your living room isn't a peaceful and relaxing space. So, how do you transform your lounge to make it cozier? We've got some top tips to help you out…
Let the light shine in – Light can make a massive difference in any room. It is important to let as much natural light into your living room as possible. This will make the space much more calming and create an ambiance that allows you to unwind. If you are relying on overhead lights to see in the living room, it will only end up causing further headaches after a long day.
Carefully consider furniture placement – What is the focal point in your living room? Is it a big piece of art? Perhaps it is a large bay window or a fireplace? This is what you need to consider when placing furniture in your living room. Place it in a manner that ensures you have a relaxing focal point, and then keep everything grouped together in an intimate and comfortable setting.
Have a comfortable place to sit – Let's point out the obvious; you aren't going to be able to relax if you do not have somewhere comfortable to sit. Of course, we're not suggesting that you throw out your current sofa and spend thousands on a new one. There is an easier way to add some comfortable seating to your living room, and this is to find the best bean chairs. Everyone knows that there is nothing better than kicking back on a bean chair and reading a book or watching TV. This is an affordable yet effective way of adding plenty of coziness to your living area.
Use wall space – It is vital to use the walls in your lounge to achieve a cozier feel. Consider hanging a large-scale piece of art or family photographs on the wall. Not only will this put a smile on your face and remind you of happy memories, but also it ensures that you are using all of your living area to full effect. This will make it appear bigger and more welcoming.
Choose colors wisely – A change of paint can make a massive difference in any room. Colors have the ability to impact how we feel and evoke different emotions, so it is really important that you choose with care if you want to create a relaxing and peaceful living space. Opt for white, pastels, or natural shades. Light shades of blue are very calming while creams make you feel like you are floating on a cloud. This doesn't mean you cannot use bright colors in your home, but you should keep these shades for the rooms where you want the energy to be, for example, in an entertainment room, home office, or kitchen. Imagine unwinding in a room that was entirely red; it wouldn't be very easy, would it?
Storage – There is nothing more headache-inducing than being surrounded by clutter. How are you supposed to relax when there are papers everywhere, glasses on the table, and magazines chucked on the floor? Despite your best intentions, if you do not have useful and stylish storage solutions in place, you are going to find your living area littered with clutter.
Invest in a fluffy rug – When you walk through the front door, kick your shoes off, and make your way into the living room, there is nothing better than sinking your feet into a soft, fluffy rug. Not only does a rug like this feel amazing, but also the texture and fluffy appearance of the rug will soften the interior in your living room, creating a more calming environment. When choosing a rug, one of the most important things to keep in mind is the size of it. You can make your lounge look awkward if you choose something that is too big or too small. Click here for some assistance on choosing the right sized rug for your living room. Aside from this, check what material the rug has been made one and don't be afraid to spend a little bit more for quality. You will reap the rewards in the long run.
Think soft – When buying furnishings and decorations for your living room, focus on their texture. This can make a huge difference. Opt for soft, fluffy cushions, as well as light and airy curtains. Remember, every element in the room is going to have an impact on the overall feel of it, so it is really important to choose with care.
Buy some scented candles – Adorning your living room with scented candles will add a comfortable and relaxing finishing touch. Getting in from work and letting the stunning aroma from the candles fill the room can be therapeutic. There are many different scents that are relaxing, including lavender, chamomile, bergamot, vanilla, jasmine, mandarin, lilac, and ylang-ylang. So, you should have no trouble finding a smell that appeals to you and also helps you to unwind. After all, relaxation is about the entire experience, and so you need to engage all of your senses; it's not just about what you see when you walk into your living room. It is about how you feel when you are sitting in there and trying to enjoy some quality time.
So there you have it; plenty of tips to help you create a living room that is comfortable and relaxing. After a difficult day at work, there will be no better place for you to unwind. Ditch the vibrant and harsh colors, invest in soft textures, get rid of the clutter, and make sure you have somewhere comfortable to sit. This is the recipe for success.